Client: Principle Home Mortgage
Client: Principle Home Mortgage
Website Development/ Search Engine Optimization/ Video Production/ Public Relations

Since we began working with Principle Home Mortgage we have built out 2 custom websites, in addition to fully optimizing each for organic search on a continuing basis.
One area where Principle Home Mortgage has dominated their local market has been through appearing sometimes multiple times on the first page of organic search results for terms their customers are using.
"Since employing The Website Marketing Agency I have seen an increase in exposure for my company across the board. The amount of clients that we get directly from the website has increased significantly. I highly recommend TWMA and can say their Website + SEO program is one of the few advertising resources I have ever used that actually made my company money." - Owner, Principle Home Mortgage
Visit Website: StateCollegeMortgages.com
Check Organic Placement On Google: Get A Mortgage In State College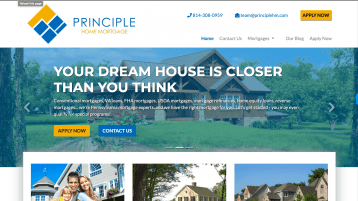 Client: TransducerWorks
Website Development/ Custom Photography/ Search Engine Optimization

Our work with TransducerWorks has included a fully custom branded website experience, along with custom photography that appears throughout their website.
The website serves as a primary point of contact for many learning about TransducerWorks, including prospective customers as well as prospective employees .

Visit Website: TransducerWorks.com
Check Organic Placement On Google: Ultrasound Transducers Pennsylvania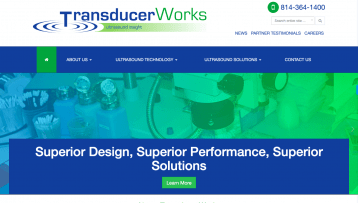 Client: C-Net TV
Website Development/ Search Engine Optimization/ Brand Development
In the autumn of 2020, C-Net, State College Pennsylvania's award-winning Government and Education access television channel selected The Website Marketing Agency to move forward with the development of a brand-new website.
The new site's central focus is C-Net's constantly-evolving catalog of Centre County's government and education videos. Each website visitor is able to easily navigate between different videos, with a thoroughly cross-referenced user experience.
The user interface places links to the site's videos in prominent areas, ensuring visitors are able to easily find what they're looking for. A main slider allows important messages to be posted, and vital areas of the site reinforced. Another highlight of the user interface is the use of big and bold drop-down menus on the primary navigation bar. Keeping with the theme of easy-access, these menus present a list of the most recent videos posted to both the education and video sides of the site.
"C-NET is very happy with our new website. The site is attractive and very user-friendly, with many new features. The Website Marketing Agency took the time to make sure that we were comfortable with every step of the process." - Cindy Hahn, C-Net Executive Director
Visit Website: C-Net TV
Check Organic Placement On Google: State College Education TV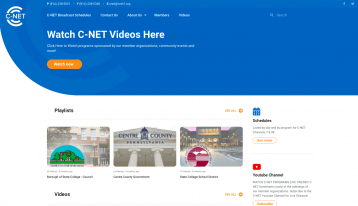 Client: Clearfield Machine Company
Website Development/ Search Engine Optimization/ Brand Development
Clearfield Machine Company needed an easy to manage website that highlighted their expertise. They also wanted a site that would rank well on search engines over time. They reached out to the digital marketing experts at TWMA and together we built an online hub that showcases Clearfield Machine's extensive machining capabilities and personnel.
On the back end, Clearfield Machine Company is able to administrate website content quickly and easily with an intuitive, award winning content management system. Their new site was only a few months old when they acquired a new client - in South America - who specifically cited their new site as a factor in why they chose Clearfield Machine as a manufacturing partner.
Visit Website: Clearfield Machine Co.
Check Organic Placement On Google: Machining Company in Clearfield